About This Course
Welcome to our comprehensive course designed to demystify options trading and empower you with the art of scalping. Scalping is a dynamic trading technique that involves making rapid, small trades to capture incremental profits. You'll delve deep into various scalping strategies, understanding when and how to apply them effectively. Scalping requires a unique mindset - one that balances quick decision-making with discipline and precision. We'll work on developing this mindset to help you thrive in the fast-paced world of scalping. By the end of this course, you'll have a comprehensive understanding of options trading and the skills to execute scalping trades with confidence. Whether you're a beginner looking to start your trading journey or an experienced trader looking to refine your techniques, this course is designed to empower you with the knowledge and skills you need for success. Let's embark on this journey towards becoming a proficient options trader.
---
Skills You'll Learn
Trading Strategies
Data Analysis
Risk Management
Traders Mindset
---
Top 4 Benefits From This Course
Lessons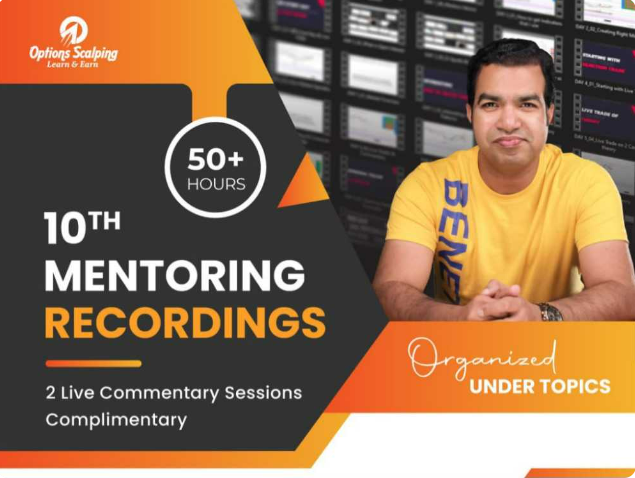 Lesson 1:
28:33 Minutes
My Stock Market Journey
Day 1 Part 2 My stock market journey – A confidence builder for all mentoring participant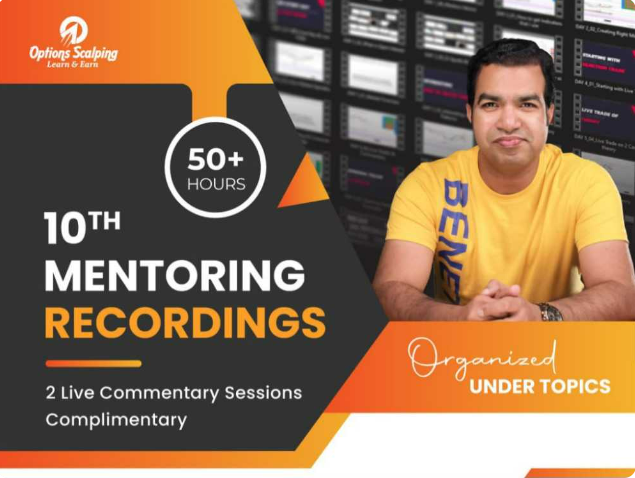 Lesson 2:
33:37 Minutes
Over Confidence Kills
Day 1 Part 2 Overconfidence kills – We will look at why overconfidence is dangerous for yo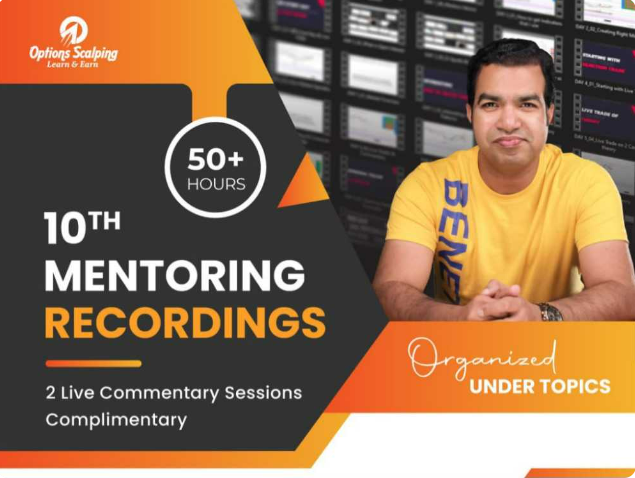 Lesson 3:
14:09 Minutes
Clear Mindset
Day 1 Part-3 Clear mindset – A trader can succeed only if he has clarity of thought. We de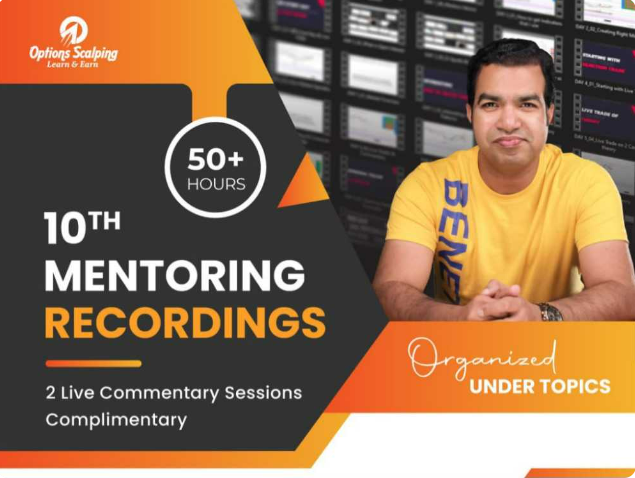 Lesson 4:
50:55 Minutes
The Turn Around Story
Day 1 Part 4 The turnaround story – Perseverance is one of the most traits of a trader. An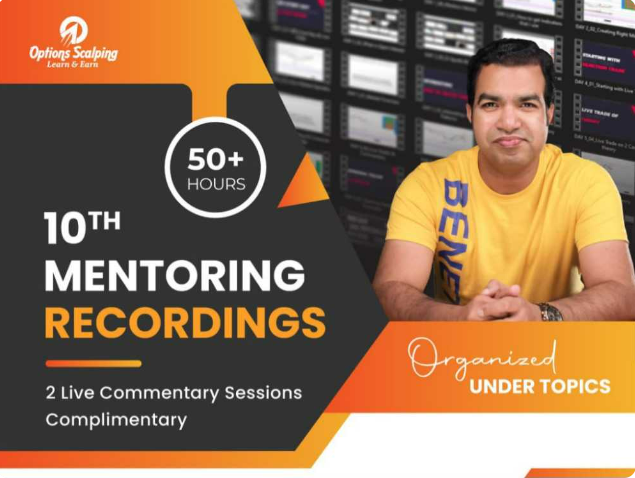 Lesson 5:
44:34 Minutes
Trading Psychology Session
Day 1 Part 5 Trading Psychology session – We will see why psychology plays a major role in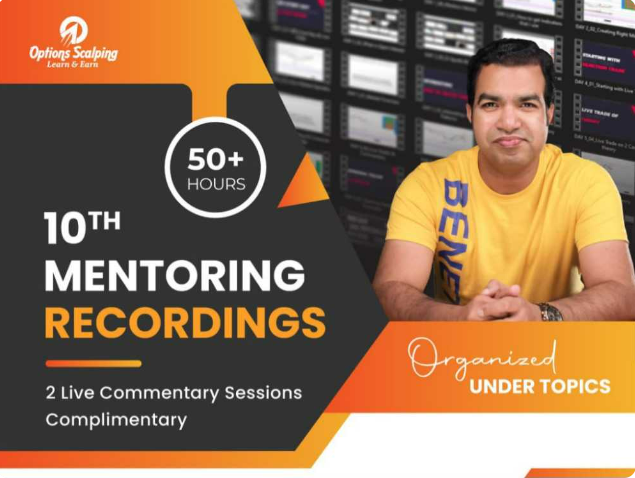 Lesson 6:
5:54 Minutes
Mentors Advice
Day 1 Part 6 Mentor's advice – A mentor's advice is as good as 15 years of experience. Thi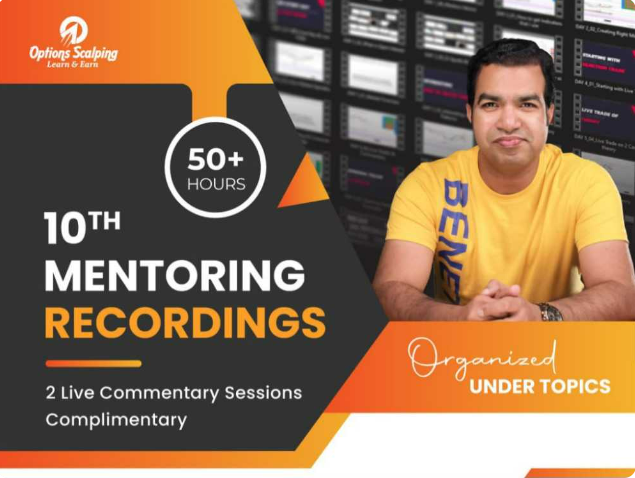 Lesson 7:
2:03 Minutes
How to get Indicators that I use
Day 2 Part 1 How to get indicators I use – We will help you set up your charting panel wit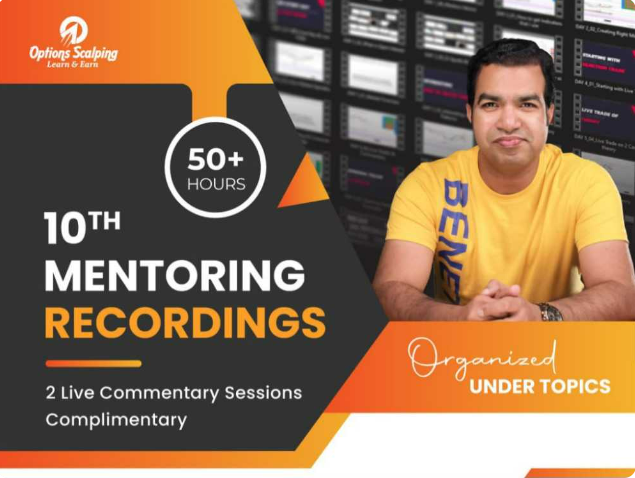 Lesson 8:
21:19 Minutes
Creating Right Mindset
Day 2 Part 2 Creating the right mindset – We will see why a right mindset is required to m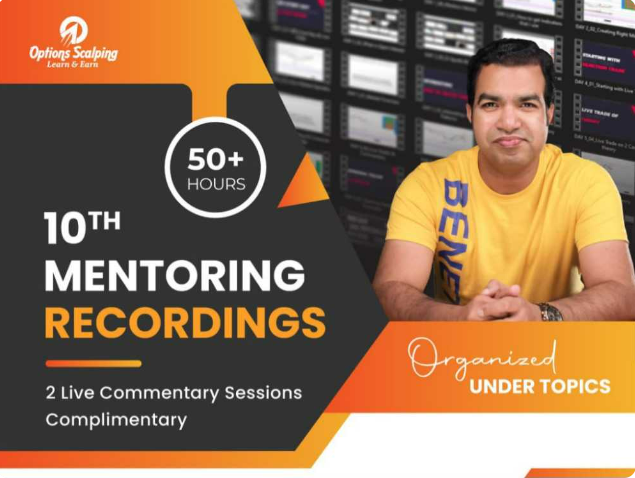 Lesson 9:
33:33 Minutes
DOW & World Markets
Day 2 Part 3 DOW & World markets - Clear understanding of global markets and external fact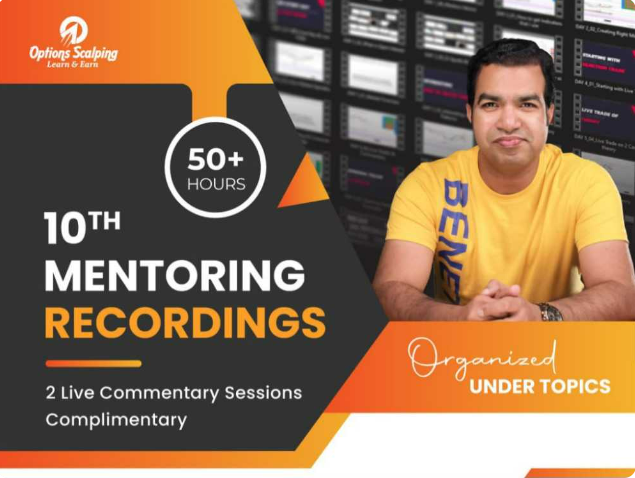 Lesson 10:
10:58 Minutes
Live Trade with Explanation
Day 2 Part 4 Live trade with explanation – It is very important to apply learning in live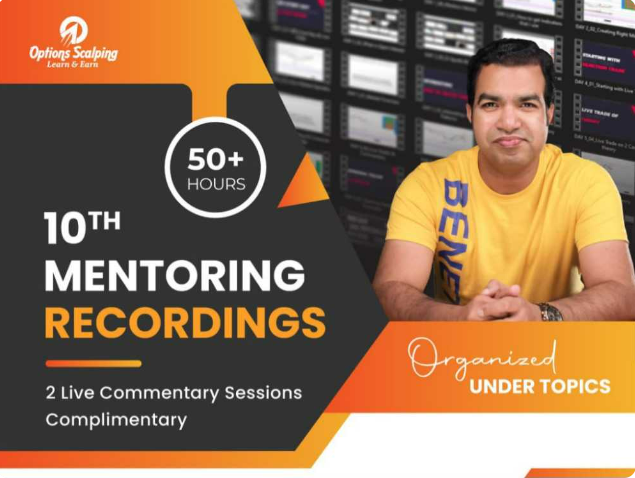 Lesson 11:
31:32 Minutes
India VIX
Day 2 Part 5 India VIX - India VIX plays an important role in understanding volatility. We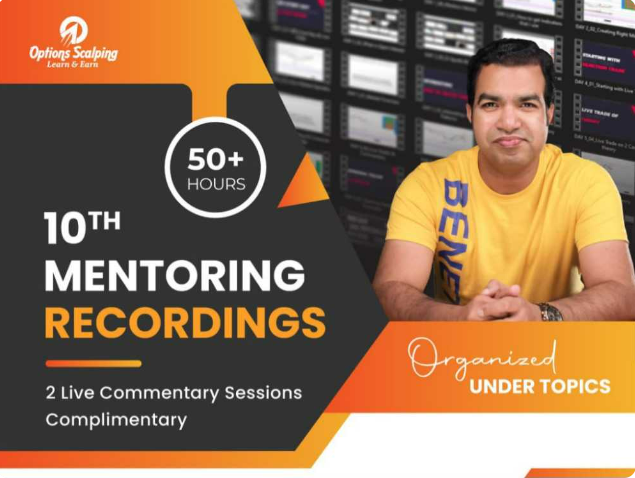 Lesson 12:
40:09 Minutes
RBI Event Day & Live Trade
Day 3 Part 1 RBI Event Day & live trade - Trading event days is completely different from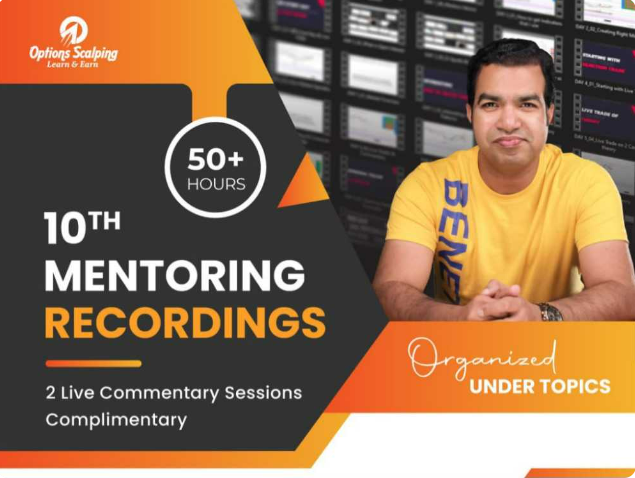 Lesson 13:
49:21 Minutes
What is Open Interest
Day 3 Part 2 What is open Interest – We will see basic concepts of open interest and how i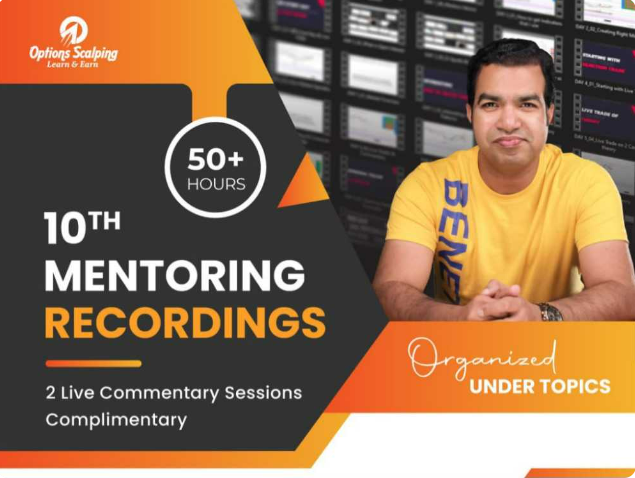 Lesson 14:
1:23 Hour
Oi Spurts & 4Q
Day 3 Part 3 OI Spurts & 4 quadrants – We will have more in-depth understanding of Open In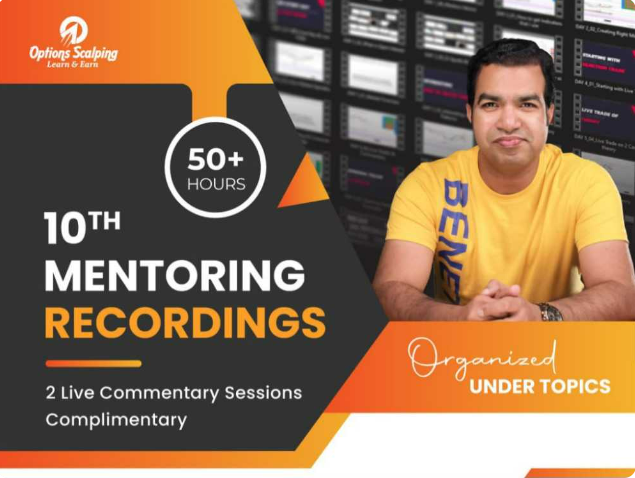 Lesson 15:
20:55 Minutes
Classic Example for oi spurts
Day 3 Part 4 Classic Example of OI Spurts – It helps a great deal when we see examples of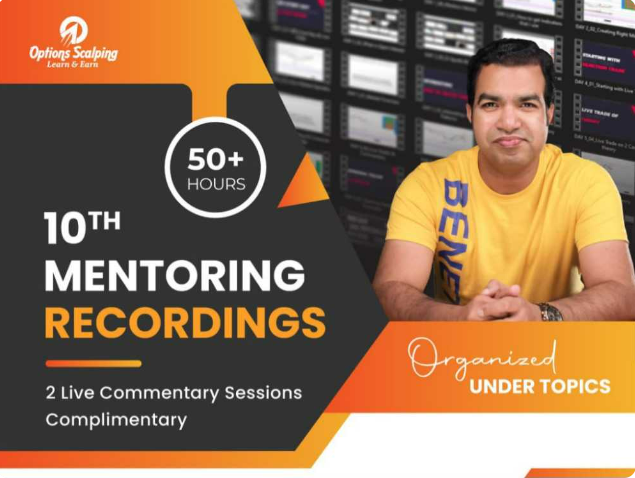 Lesson 16:
14:28 Minutes
Starting with Live Trade
Day 4 Part 1 Live trading enhances your learning experience as you get to see how to act/r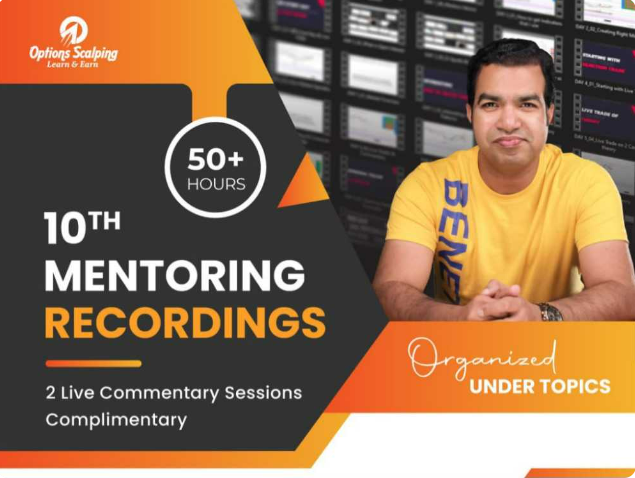 Lesson 17:
41:33 Minutes
Going Deep in Oi Analysis
Day 4 Part 2 Going deep into OI Analysis - We will learn in-depth in OI Analysis and how i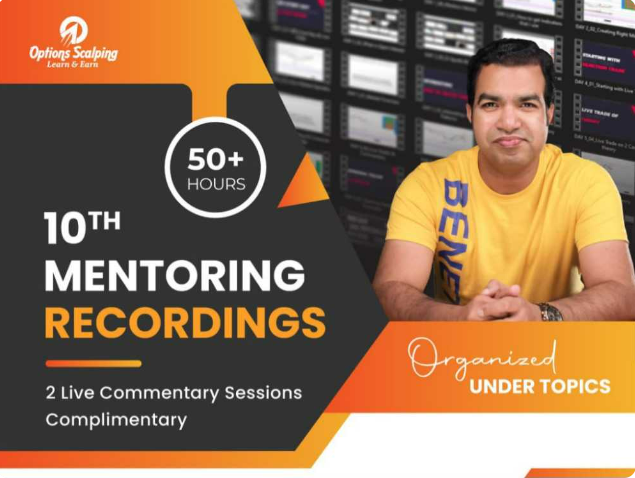 Lesson 18:
55:02 Minutes
Implied Volatility
Day 4 Part 3 Implied Volatility - We will see how implied volatility helps take a decision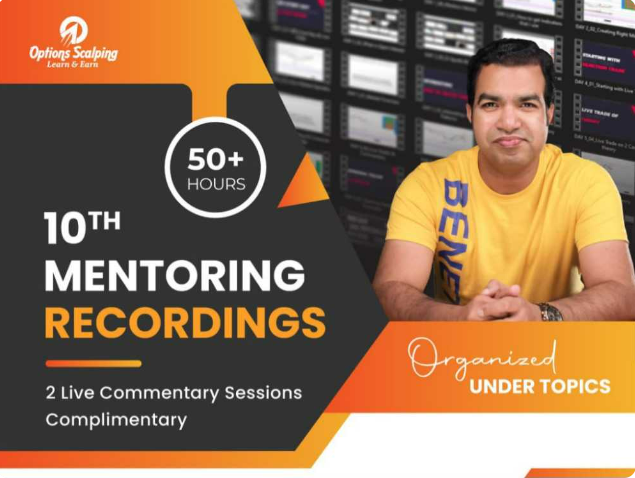 Lesson 19:
59:04 Minutes
5 Dots Chart Indicators
Day 4 Part 4 5 dots chart indicators – Having the right trading setup on charts is a criti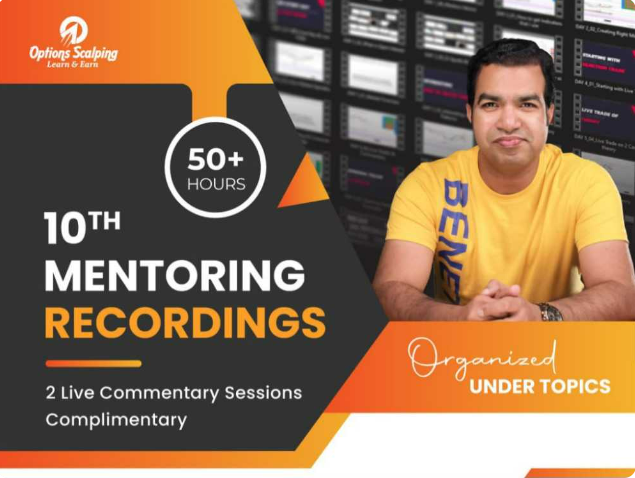 Lesson 20:
44:46 Minutes
How Market Operates
Day 4 Part 6 How markets operate – This session will cover why it is important to know how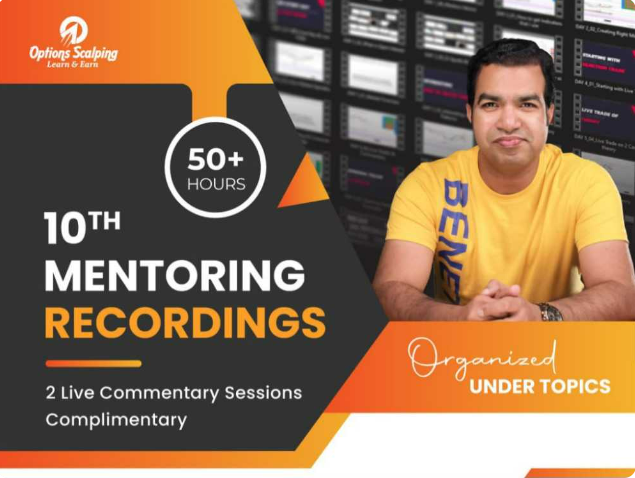 Lesson 21:
15:20 Minutes
Market Overview 1
Day 5 Part 1 Market overview – Having a broader market overview is very important in tradi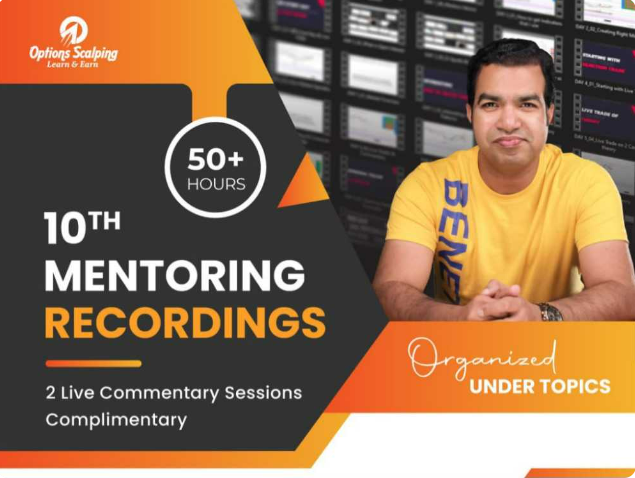 Lesson 22:
27:18 Minutes
Interesting chart Patterns
Day 5 Part 2 Interesting chart patterns – We will see how historical chart patterns played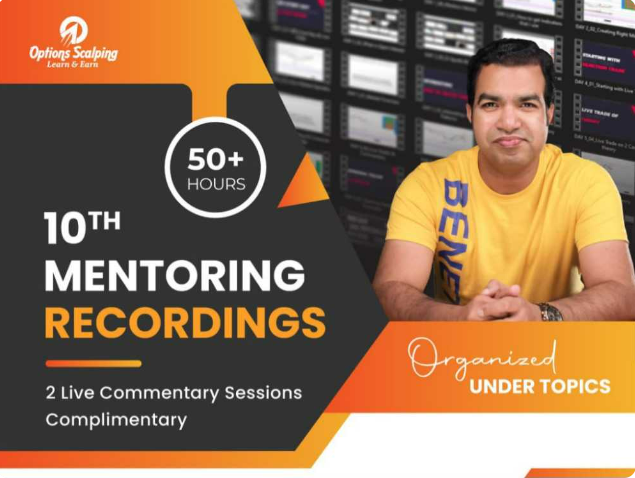 Lesson 23:
46:28 Minutes
2 Candle Theory
Day 5 Part 3 2 Candle theory is an inbuilt concept or trading strategy. It is derived from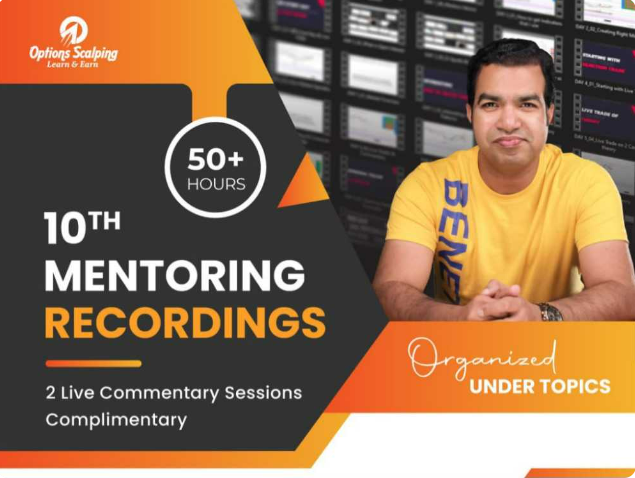 Lesson 24:
42:39 Minutes
Live Trade on 2 Candle theory
Day 5 Part 4 Live trade on 2 candle theory - Practical application of the 2-candle theory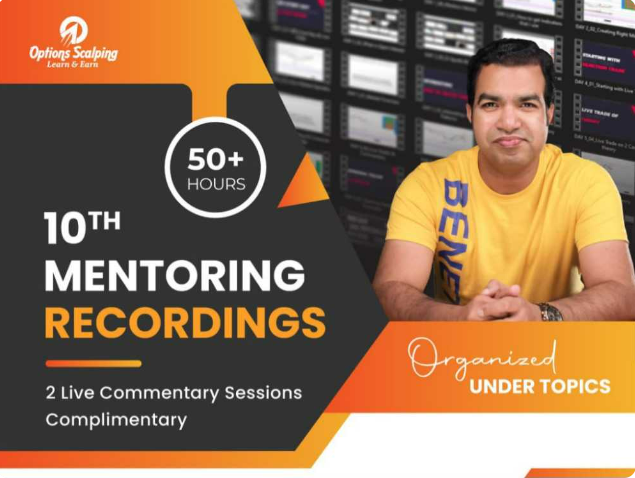 Lesson 25:
39:57 Minutes
Oi Expiry Day Strategy
Day 5 Part 5 OI Expiry Day strategy - OI Expiry day concept is a detailed study of how bi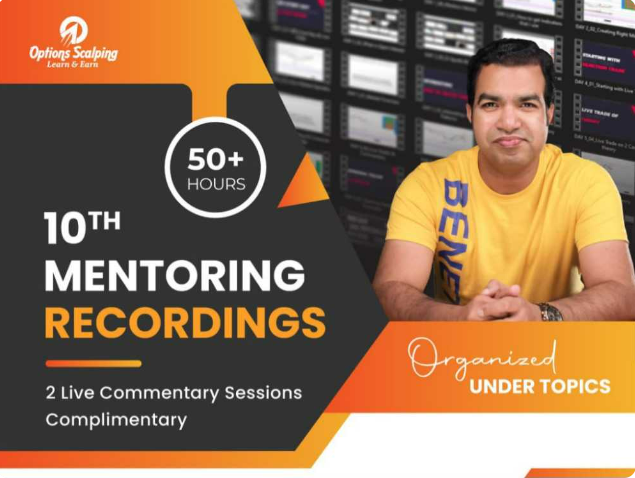 Lesson 26:
33:40 Minutes
Pre-market Analysis
Day 6 Part 1 Pre-market analysis – This session covers on aspects you should study before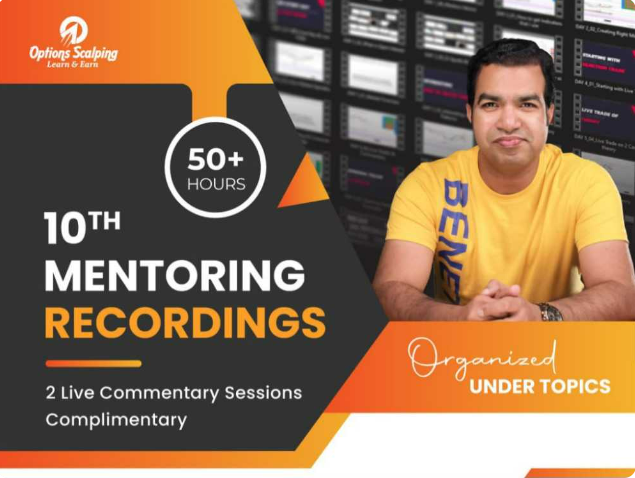 Lesson 27:
1:30 Hour
BTST & Opening Trade
Day 6 Part 2 BTST & Opening trade – We will see two strategies that will let trades who ca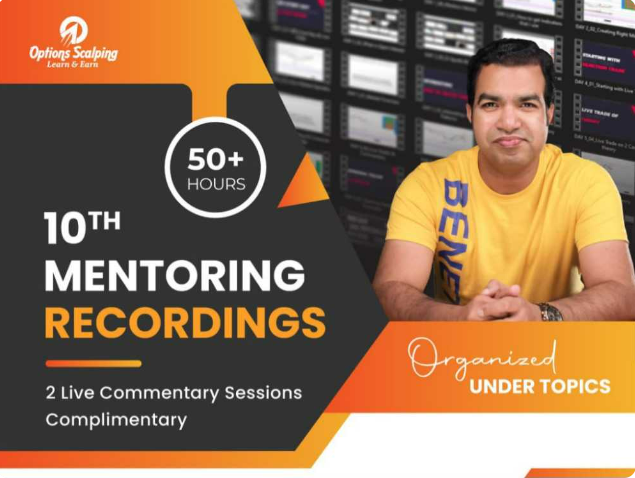 Lesson 28:
44:26 Minutes
Trending Oi Crossover Strategy
Day 6 Part 3 Trending OI Crossover strategy – Trending OI crossover is another inbuilt tra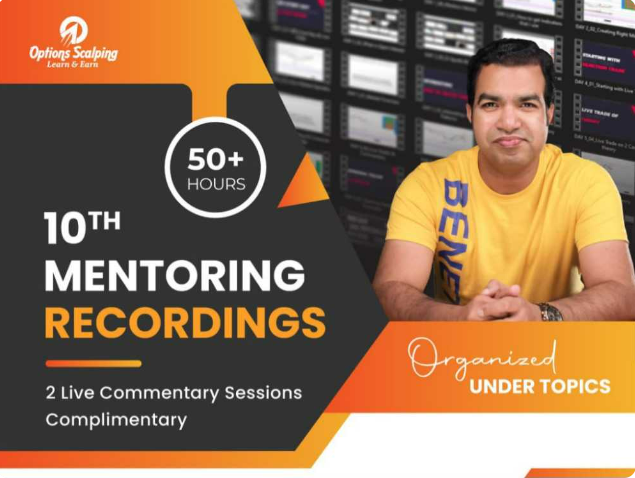 Lesson 29:
54:07 Minutes
Live Trades & Commentary
Day 6 Part 4 Live trade & Commentary - Learning through live trades help to understand emo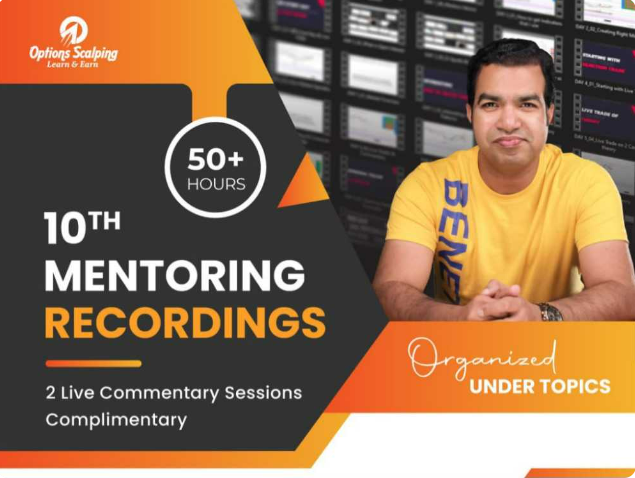 Lesson 30:
16:47 Minutes
Golden Crossover Strategy
Day 6 Part 5 Golden crossover – An explanation of the golden crossover concept with exampl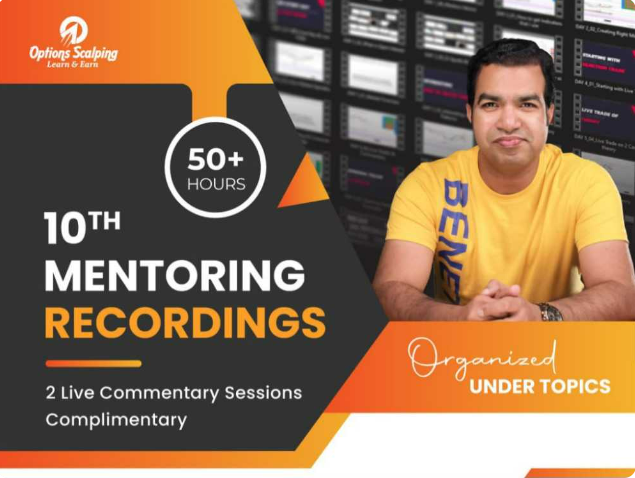 Lesson 31:
50:12 Minutes
Morning View& Live Trades
Day 7 Part 1 Morning view & Live trades – We will see how morning views play a major role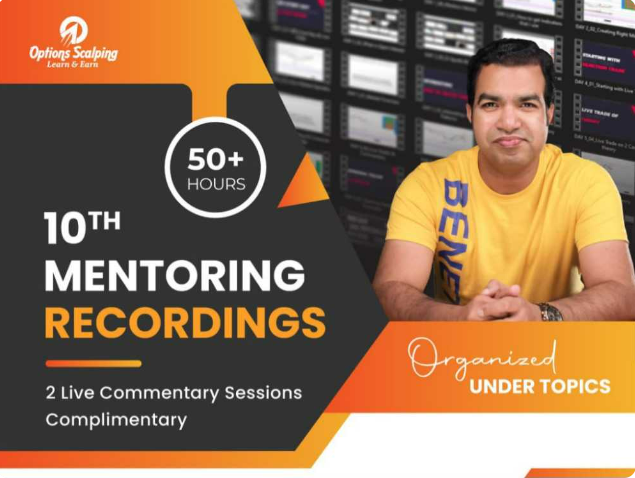 Lesson 32:
35:13 Minutes
Gap theory
Day 7 Part 2 Gap theory - Gap theory on a 3-minute time frame is a home built concept. We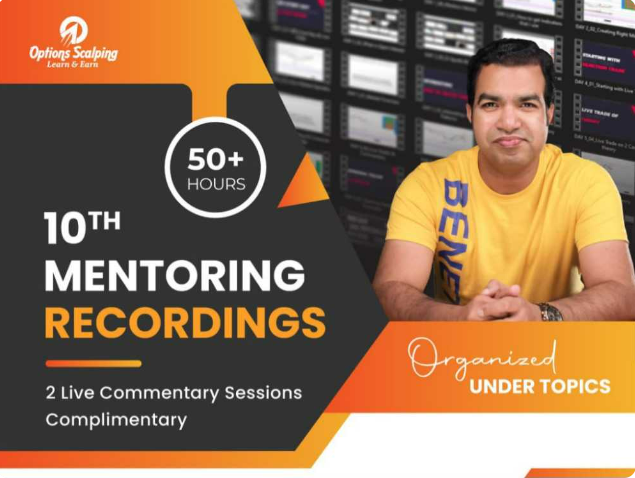 Lesson 33:
53:35 Minutes
Support & Resistance
Day 7 Part 3 Support & Resistance – We will see how to support & resistance levels and ho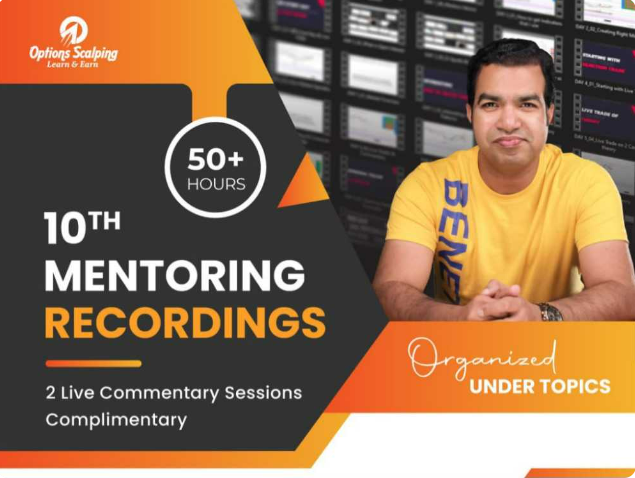 Lesson 34:
5:04 Hours
Expiry Day Commentary Session
Day 8 A full day of expiry day trading with logic is what you will see in this session. Yo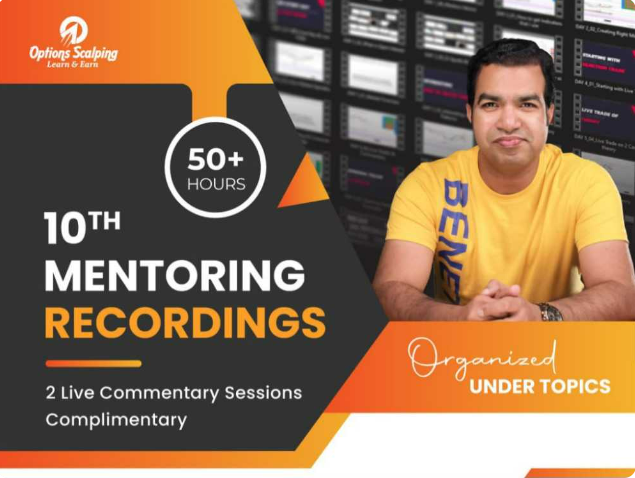 Lesson 35:
16:05 Minutes
Market Overview 2
Day 9 Part 1 Market overview – You will see how to form an overview of the market, consid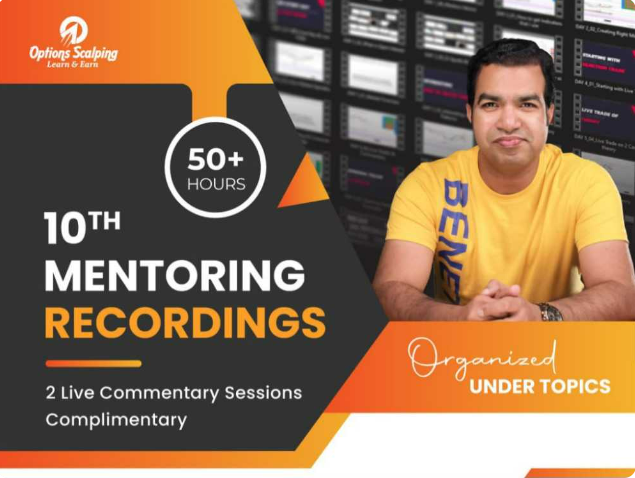 Lesson 36:
30:20 Minutes
Opening Trade Strategy
Day 9 Part 2 Opening trade strategy – Opening trade strategy is designed for people like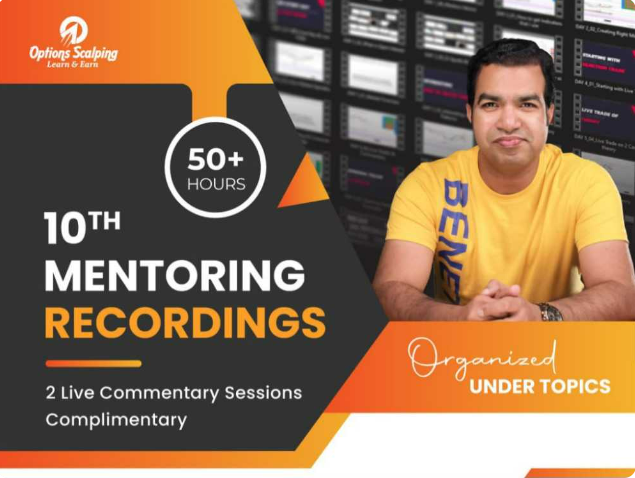 Lesson 37:
18:16 Minutes
Opening Trade Live Examples
Day 9 Part 3 Opening trade live examples – Trading live the concepts learned not only hel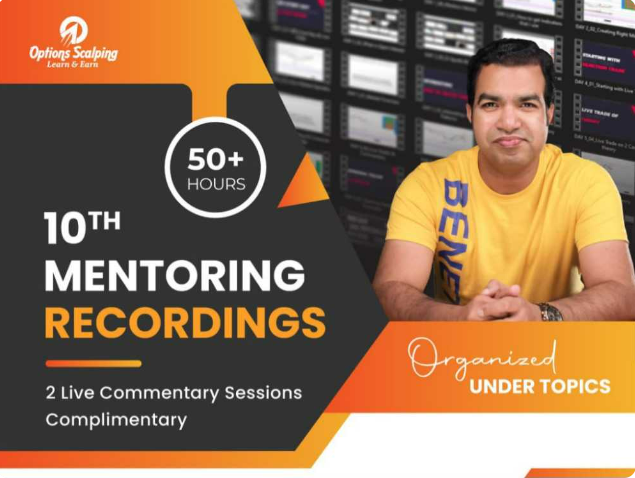 Lesson 38:
50:43 Minutes
BTST Strategy
Day 9 Part 4 BTST strategy – BTST is another strategy that is designed for traders who can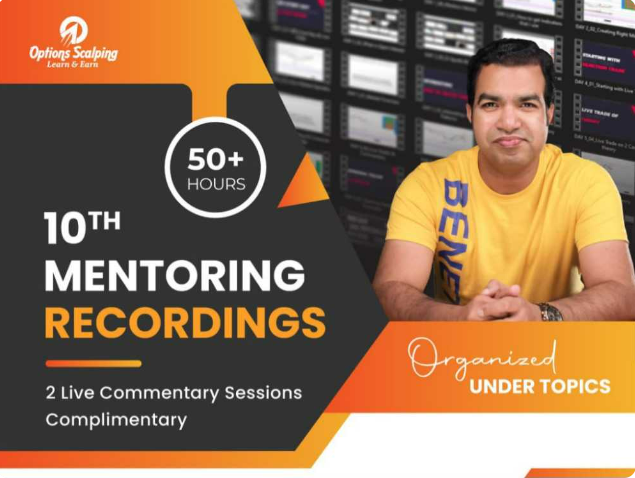 Lesson 39:
18:41 Minutes
Market Overview 3
Day 10 Part 1 Market overview - We will see how forming a view helps to take better tradin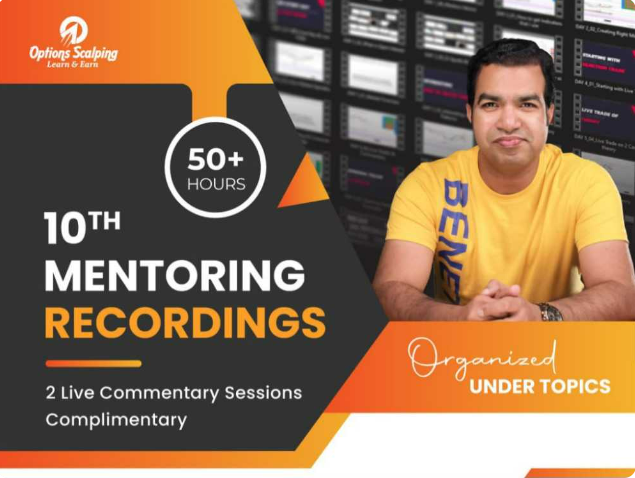 Lesson 40:
1:25 Hour
Open & High Strategy
Day 10 Part 2 Open & high strategy – Open & high is an in-house strategy and is tradable b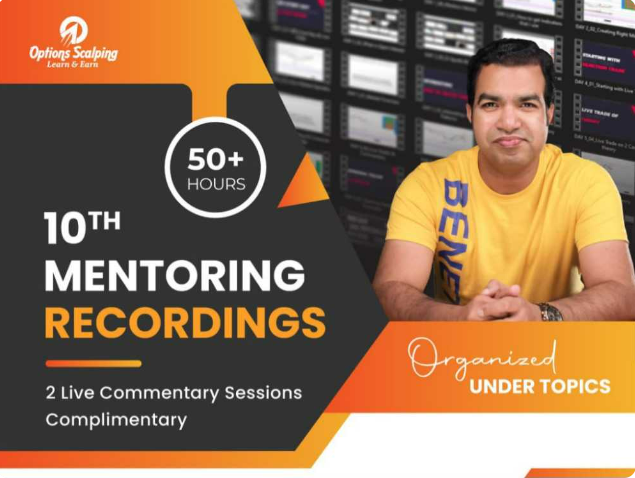 Lesson 41:
45:57 Minutes
Hero or Zero Strategy
Day 10 Part 3 Hero or Zero Strategy – Hero or zero strategy is a highly risky but rewardin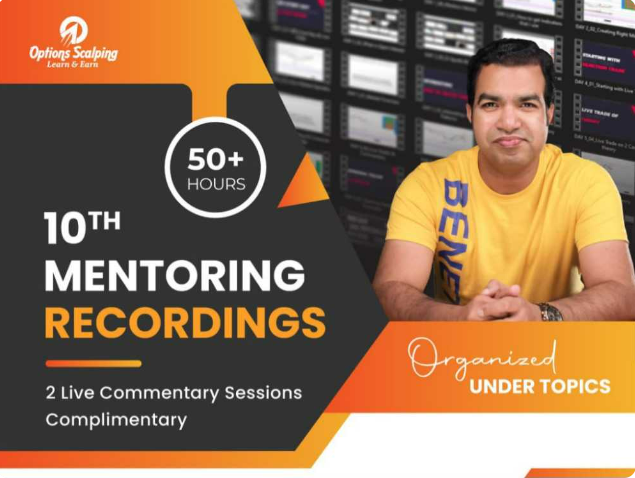 Lesson 42:
15:33 Minutes
Market overview 4 & Live Trades
Day 11 Part 1 Market overview 4 & live trades -> Another session of live trades with logic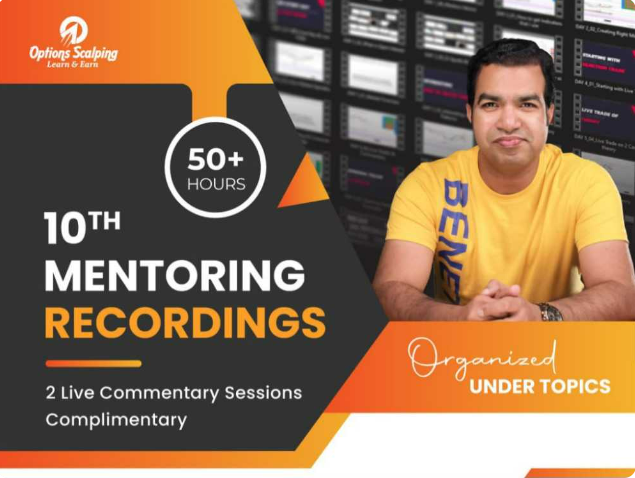 Lesson 43:
35:07 Minutes
Market Mover Strategy
Day 11 Part 2 Market movers' strategy – Market movers is another in-house strategy to trad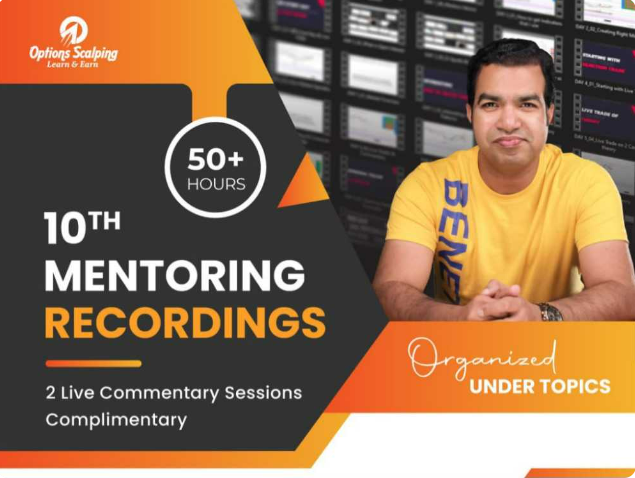 Lesson 44:
1:08 Hour
Straddle Strategy
Day 11 Part 3 Straddle strategy – We will explain how we can use the straddle strategy for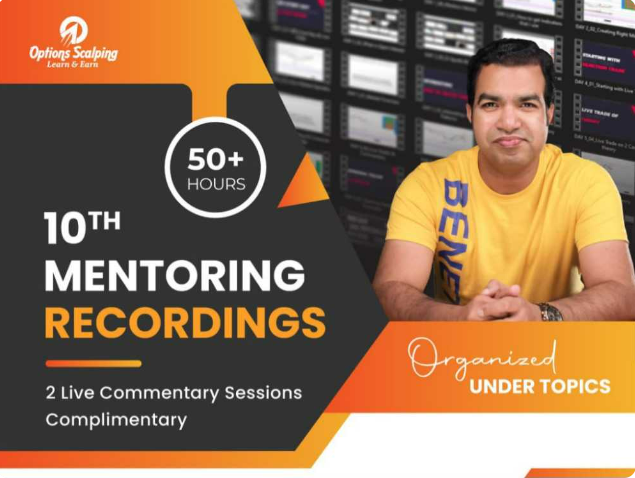 Lesson 45:
35:01 Minutes
Straddle Live Trade Outcome
Day 11 Part 4 Straddle live trade outcome – You will see how you can remain calm when trad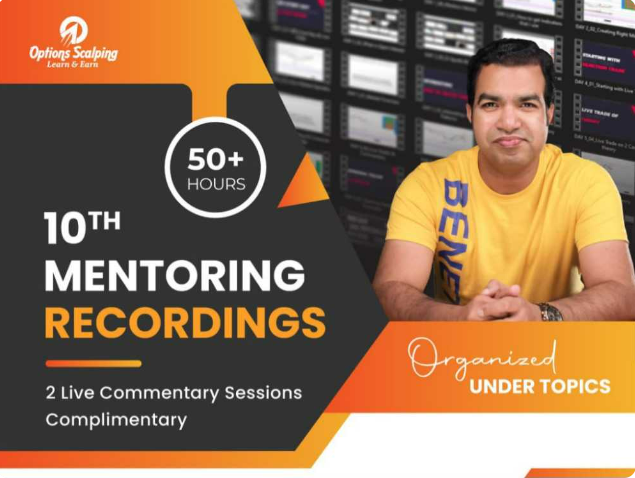 Lesson 46:
4:40 Hours
Expiry Day Commentary Session
Day 12 Expiry Day commentary session – We will see a full day of expiry day trading with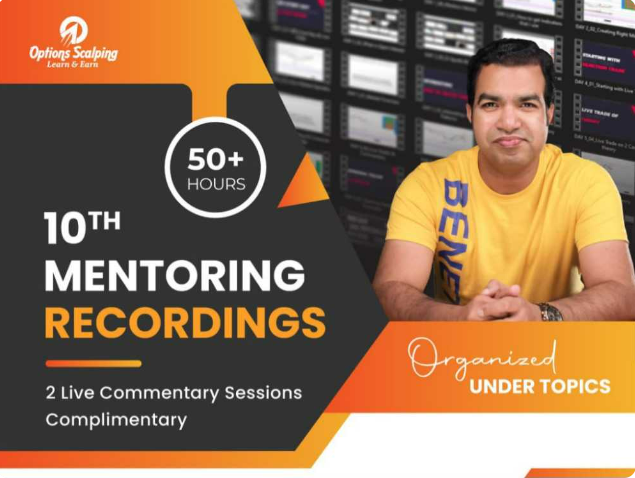 Lesson 47:
1:29 Hour
Q & A Session Part-1
Day 13 Part 1 Q&A session Part 1 – Q&A sessions are not only a doubt clarifying session, b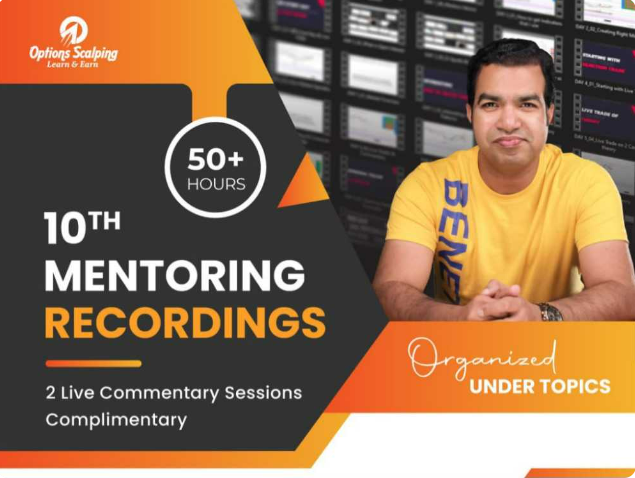 Lesson 48:
1:58 Hour
Q & A Session Part-2
Day 13 Part 2 Q&A session part 2 - Q&A sessions help clarify myths about trading and give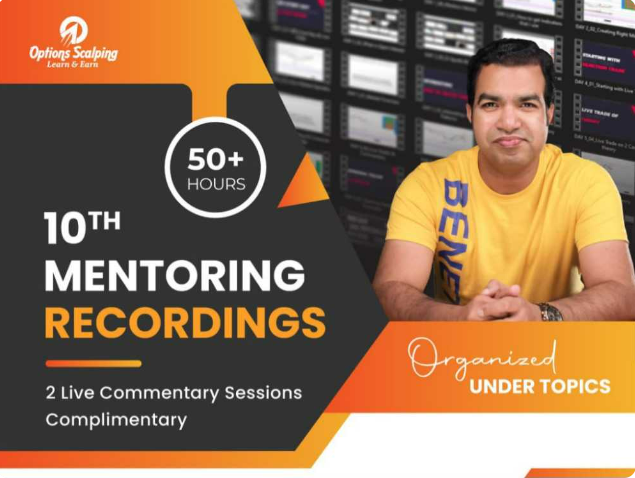 Lesson 49:
31:51 Minutes
Q & A Session Part-3
Day 13 Part 3 Q&A session part 3 – Learning and re-learning is a great way to give you a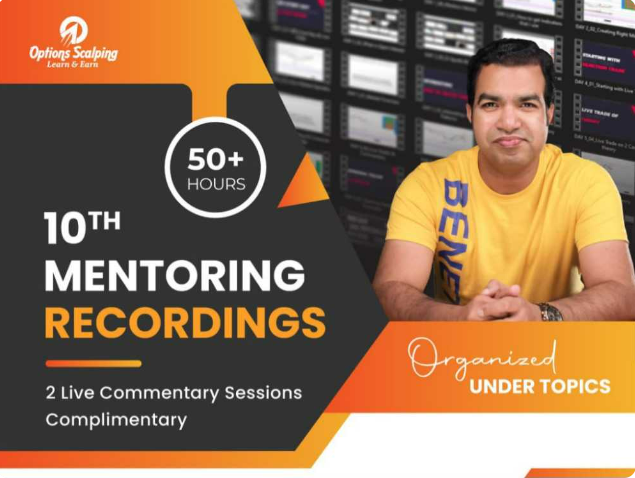 Lesson 50:
12:14 Minutes
Rapid Fire Q & A Session
Day 13 Part 4 Rapid fire Q&A – You will see short and precise answers to questions in this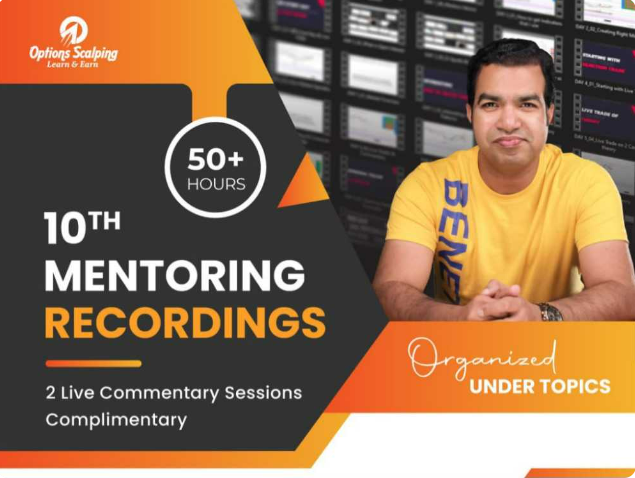 Lesson 51:
5:30 Hours
Expiry Day Commentary Session
Day 14 Expiry Day commentary session – You will see a full day of expiry day analysis with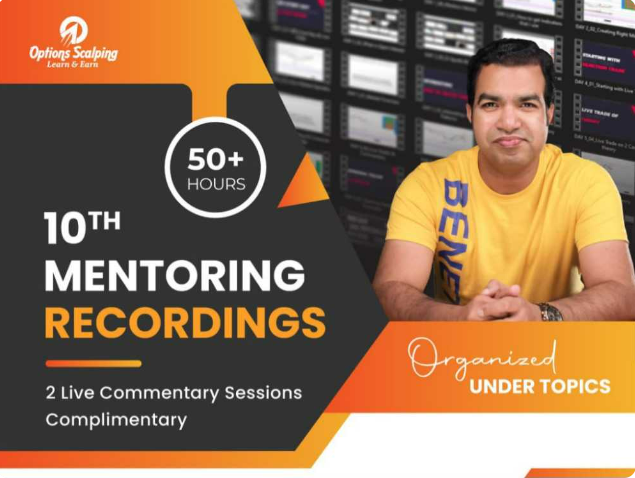 Lesson 52:
34:44 Minutes
Premarket Data Analysis
Day 15 Part 1 Pre-market data analysis – You will see how pre-market analysis gives you a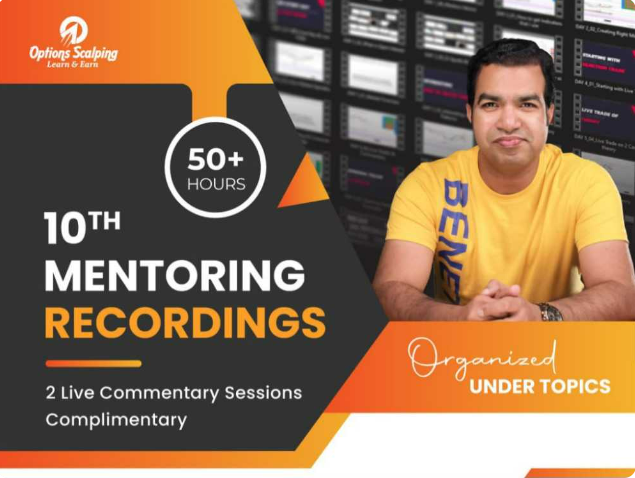 Lesson 53:
1:12 Hour
Opening trades
Day 15 Part 2 Opening trades – You will see opening trades with logic in this session.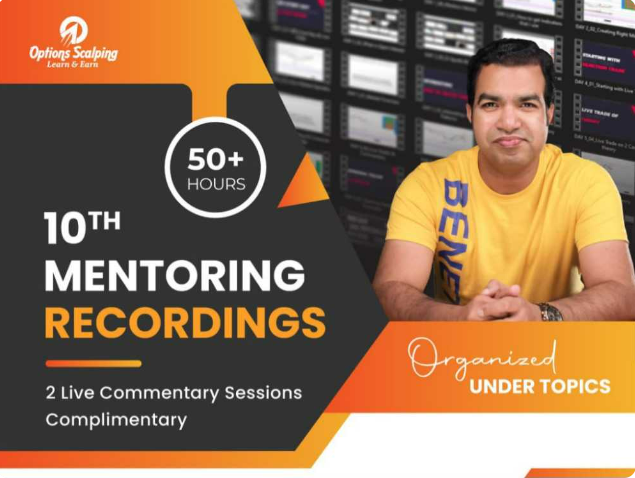 Lesson 54:
59:54 Minutes
Oi Pulse session Part-1
Day 15 Part 3 OI Pulse session part 1 - You will see how to navigate the OI Pulse tool and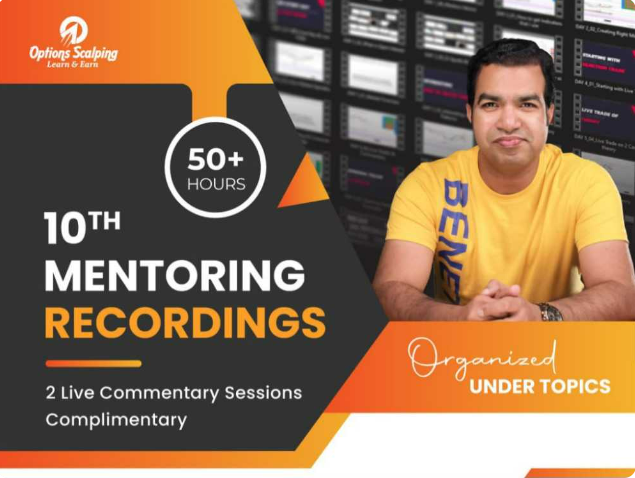 Lesson 55:
2:03 Hours
Oi Pulse session Part-2
Day 15 Part 4 OI Pulse Session part 2 - In this session you will see how you can use OI Pu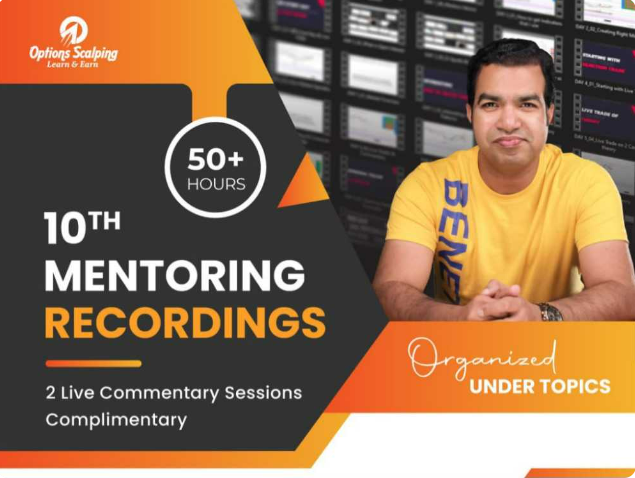 Lesson 56:
7:47 Minutes
Mentors Advice
Day 15 Part 5 Mentors' advice – You will see years of trading experience of the mentor cap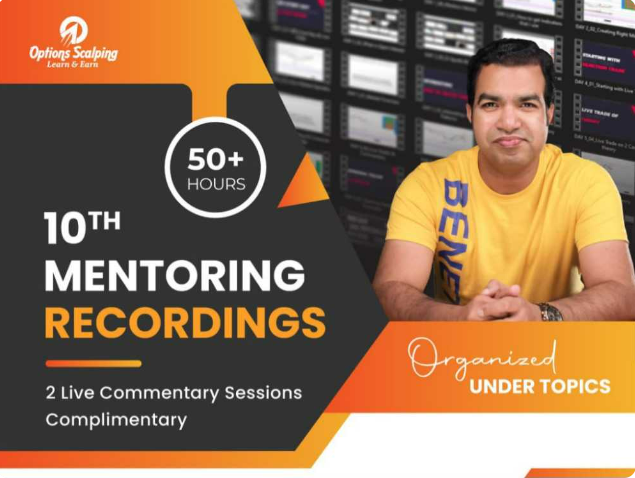 Lesson 57:
Pre Mentoring Material
---
Perks For You
Access to Videos for 1 Year
Can Join Oipulse After Learning
---
Meet Options Scalping Private Limited
---
Customer Review
"Thanks siva sir, for the wonderful journey. Surely each and everyone in this group will start seeing the market in different perspective. And our mentoring group has seen all type of market in this trading journey. Thanks for your guidance. Keep guiding retail community with your valuable experience, And congrats every mate for your upcoming trading journey and wishing all of them a great year ahead, Aslike, siva sir, Always follow discipline that will be our success mantra."
"Thank u Mr Siva , your the Siva of scalping market, I can't believe my self that I changed my loss journey to a profitable journey through psychology, data reading, patience and discipline. I am very thankful to you for the mentoring ship, n now it's just that I keep the discipline and patience throughout the trading carrier, I hope that for more and more mentoring n webinar from u, there is a lot more learn from you and from the market looking forward to It, god bless Mr Siva"
"Siva Sir Frankly I am ashamed of posting any message. Although last 2 month is the 1st time in my 10 years that 1 have consistently made profit, I am upset because I lost most of it doing my old foolish stuff Today because of you I am able to have confidence that I can win if I cut my bottom fishing and FOMO. I still thank you for giving me the confidence to trade And I assure you that I willing complete 10 Day challenge. And take it to 30 Regards Kurian"

;